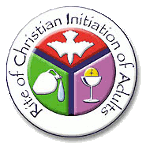 Deacon Jose & Leonor Huerta-Nunez
459-1967
Ministry Description
RCIA is a process of instruction, prayer, and fellowship which welcomes adults into full participation in the sacramental life of the Catholic Church.
The RCIA was established to prepare those who have not been baptized, or those who have been baptized in other Christian traditions, for full reception into the Catholic Church. It is also intended for adults who have been baptized Catholic but have not received the initiation sacraments of Confirmation and Eucharist. The program has a two-fold purpose. The first is to learn how the Catholic Church combines Sacred Scripture, Church teachings, and Church traditions to form a rich environment that challenges each of us into a personal encounter with Jesus Christ. Secondly, each person is prepared for the reception of the Sacraments of Christian initiation: Baptism (if needed), Confirmation, and Eucharist.
Parish members involved in the RCIA process include catechist, sponsors, and prayer partners. Are you are interested in a ministry that helps others learn about the Catholic Church? Volunteer to sponsor an RCIA candidate on their spiritual journey. This can be a particularly enjoyable and satisfying experience for those who offer to sponsor catechumens and candidates. If you would like to sponsor a person coming into the Church, you are required to be a practicing, fully initiated Catholic, registered parishioner in a Catholic church.
The Rite of Christian Initiation (RCIA), which is the process to be received into the Catholic Church, begins the last week of August, but let's begin to get to know each other now. RCIA sessions are held on Sunday's 5:00-7:30pm in the Bryerton and Brazaskas rooms.
Please contact Deacon José at (520) 459-1967 or email jhnunez@diocesetucson.org with questions, comments or concerns.