OLM Return to Public Masses on Pentecost
We we have received permission from Bishop Weisenburger for the return to public masses.  We are now working on implementing the details of our upcoming drive-in masses with communion which will begin with the Vigil of Pentecost.  Masses will be drive-in the parking lot at Saturday 6:30 p.m. ; Sunday at 7:30 a.m.; 9:30 a.m. and 11:30 a.m. (Spanish)
So you know what to expect, please read my letter with all the details about our reopening by clicking the "Reopening Plan" link on the left side of this page.
Masses
St. Andrew's will also have public masses on Pentecost as well as continuing their live-streamed masses indefinitely. Here is their schedule:
Friday– 9:00 AM and 12:05 Noon
Saturday — 9:00 AM and 5:00 PM     6:30 PM – Good Shepherd Mission, Whetstone
Sunday — 8:00 AM, 10:00 AM (LIve streamed) 12:00 Noon (Spanish), and 5:00 PM
Monday — 9:00 AM and 12:05 Noon
Priest Transitions
Well, it's finally official. My retirement date is set for July 1 of this year. Bishop Weisenburger has worked hard to find a suitable replacement, so he found another Fr. Mike.  Fr. Mike Martinez is assigned  pastor of Our Lady of the Mountains to start on July 1. He is coming to us from the Air Force Chaplaincy.
Fr. Mike Martinez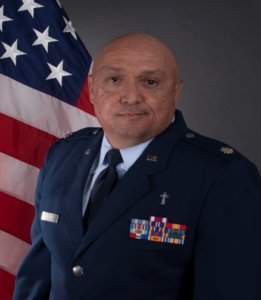 Fr Mike Martinez is a priest of the Diocese of Tucson.  A native of Arizona, he was born in Safford in 1963.  He and his family moved to Morenci, Arizona in 1974.  After graduating from Morenci High School in 1981 he attended College Seminary at the Pontifical College Josephinum in Columbus, Ohio and graduated in 1985 with a B. A. in Latin American Studies. He then attended graduate school at St. John's School of Theology in Camarillo, California and graduated in 1989 with a Masters of Divinity in Theology.  He was ordained to the priesthood in June of 1989.  He has served the Diocese of Tucson for 29 years at Our Mother of Sorrows, Tucson, St. Andrew's, Sierra Vista, St. Odilia's, Tucson, St. Monica's,Tucson, Chaplain at the Arizona State Penitentiary, Florence, St. Ambrose, Tucson, and St. Elizabeth Ann Seton's, Tucson.
From 1999-present Fr. Mike has been a Chaplain for the Arizona Air National Guard as a traditional/reservist guardsman.  Since 2006-present he has been on active duty orders serving the 162d Wing in Tucson.  He has deployed to and been in Egypt, Qatar, Kuwait, Saudi Arabia and flew on aero-medivac missions to help retrieve wounded military members in the Iraq cities of Bagdad, Balad, Tallil, and Tikrit. He will retire from military service in April of 2019.
He enjoys studying and preaching the truths found in the Sacred Scriptures and Moral Theology.  When not serving in ministry he is an avid outdoorsman and can be found fishing or hunting somewhere.  He is an accomplished musician/bass player and plays and composes music in the jazz-fusion genre.
Fr. Mike Bucciarelli
It has been an honor, privilege and blessing to have been able to serve the faith community at Our Lady of the Mountains. My plans are to remain here in Sierra Vista and work with Bishop Weisenburger on the Newly Ordained Priests' Mentoring Program. I'll be working with some of the priests you know like Fr. Tom Quirk and (almost) Fr. Peter Pedrasa. I will also be helping with masses in all the parishes in the local area, so you will still be seeing me around.
Also, Fr. Amal will be moving to St. Patrick Parish in Bisbee to take the place of Fr. Matthew who is also retiring from ministry in our diocese.
Once the pandemic has gotten under control we will see about a retirement party!
St. Vincent De Paul NEWS
SVDP has reopened to those struggling to pay bills during the COVID 19 crisis.  We are also furnishing food at Rita's Pantry. Our current hours are 9 am to 11 am on Monday, Wednesday, and Friday.
Please  say a prayer for all those who are struggling during this time. 
"Neighbors Helping Neighbors"
May, the Month of Mary
During the month of May, we usually have a number of parish activities such as the May Crowning, rosaries, etc. Since we currently can't gather, I will post information on Marian activities we where can participate online or in private as well as Marian prayers.
Renewal of the Consecration of the United States
of America to the Blessed Virgin Mary
From Archbishop José Gomez:
Most Holy Virgin Mary, Mother of the Church, you are the fairest fruit of God's redeeming love; you sing of the Father's mercy
and accompany us with a mother's love. In this time of pandemic we come to you, our sign of sure hope and comfort.
Today we renew the act of consecration and entrustment carried out by those who have gone before us.
With the love of a Mother and Handmaid, embrace our nation which we entrust and consecrate once again to you, together with ourselves and our families…
Mary, Mother of the Church,
you are enthroned as queen at your Son's right hand:
we ask your intercession for the needs of our country,
that every desire for good may be blessed and strengthened,
that faith may be revived and nourished,
hope sustained and enlightened,
charity awakened and animated;
guide us, we pray, along the path of holiness.
Mary our Mother,
bring everyone under your protection and entrust everyone to your beloved Son, Jesus Christ our Lord. Amen.
FYI, I usually pray my rosary around 1 p.m. in private. Anyone who would like to pray along in private at that time is welcome.
Warning
Unfortunately I have been notified by some of our parishioners that this scheme has surfaced again. Beware of any text with a non-local area code.
It has come to my attention that a text/email scam has been going around the country using parish priests' names to ask for gift cards for persons with cancer or other situations. This is a SCAM. No priest will ever ask for gift cards for anyone. If you get one of these texts, ignore it and delete it.
Rosario en español
El grupo de el Rosario de Nstra.Sra. de las Montañas iniciarà el Lunes 13 de Abril.
La coronilla a la Divina Misericordia a las 3:00pm y el rezo de el Santo Rosario a las 6:00pm  en vivo via Facebook.
Todos estan invitados a participar.
Se ofrecerà por todo lo que estamosviviendo, si tienen alguna petición que desea agregar.
Por favor llame a Esperanza Avitia al: (520) 249-4623
Gracias Dios les bendiga.

Easter 2020
Dear Brothers and Sisters,
Christ is Risen, Alleluia! He is indeed truly risen, Alleluia!
If you are like me, then this is the strangest Easter ever. All the usual celebrations have been put on hold, the church is empty rather than filled to overflowing and the land seems unusually quiet.
On the other hand, this Easter I find a great spiritual connection with the Holy Sepulchre of Our Lord — the empty tomb. The tomb of Christ Our Savior even to this day is an empty, barren place. However, it is empty not because the Lord is dead and buried, but because he is risen, he is alive!
At the first Easter, the apostles huddled in the upper room afraid for their lives. Even with the news brought to them by the women, they mostly remained in that room or went back to their homes. It is easy to see parallels in today's world. But, even though the doors were locked and barred, Our Lord came to the Apostles. His words resound: "Peace be with you." The same is true for us. Even though we might be locked in at home with our movements limited, Our Lord comes to us with the same message: "Peace be with you."
So as we celebrate this strangest of Easters, my prayer for all of us is that we hear the Lord's message of peace and let it dispel the anxiety in our hearts so that we can open them to receive the joy of the Risen Lord. May his blessings be with each of you and your families.
Now for some, hopefully, useful information. We have been working with St. Andrew's parish to televise (streaming video at standrewsv.org/) the liturgies of Holy Week and Easter. We will continue this as long as necessary. Here is a schedule:
Easter Weekdays: (10:00 a.m.)
Sundays: (10:00 a.m. English and 12 Noon Spanish)

Finally, I would like to remind you that although our church buildings are mostly closed, our financial costs remain mostly fixed, so we are in need of your Easter donations. If you haven't signed up for online giving, you can call the parish office for assistance. You can also mail in your envelopes or drop them in the box outside the parish office (M-F). Finally, if you receive a stimulus check, you might consider donating all or part of it to our parish.
Once again, May the blessings of Our Risen Lord be with you and all your loved ones this Easter time.
Fr. Mike
Sunday Bulletin
We have been emailing our Sunday Bulletin to all parishioners for whom we have an address. If you would like to be added to our list, please call the parish office or send an email to office@olmaz.org
Parish Office Information
Due to the increasing risk of contracting Covid-19, the parish office will be closed to walk-in traffic. We will be in the office M-F from 8:30 a.m. to 5:00 p.m. to answer phone calls and to check emails. A box will be left by the office door for you to leave donations, mail or any other items. It will be emptied often during the day. The church will remain open during office hours. Please stay safe as we pray for one another.
Parish Lenten Retreat
The parish Lenten retreat is still available. You can watch recordings here: LENTEN MISSION with FR. AMAL.
Pope Francis Prayer
Replays of the prayer and blessing of our Holy Father, Pope Francis are available on the Vatican News website:  
www.vaticannews.va
OLM  Masses
Fr. Amal and I will be celebrate mass in private each Sunday at 9:30 a.m. and each weekday at 8:00 a.m.  Our intentions are for your health and safety, and for all our families, friends and loved ones. All are invited to pray with us from your homes at the same time. We do not have the equipment to live stream our masses, but we will be participating in the live-streamed masses from St. Andrew's.
COVID-19 Information
All of us are impacted by the COVID-19 pandemic. For this reason, we have taken measures to avoid the spread of the virus. Above all, please stay home if you are sick. The latest update from the Diocese has asked us to suspend all public celebrations of the mass on both Sundays and Weekdays until April 6th or until further notice. Also, all gatherings, communion services, penance services, dinners, etc. are cancelled or postponed. The parish office will remain open for calls and email, but not for visitors. Hours are from 8:30 a.m. to 5:00 p.m. The church will also be open M-F from 8:30 a.m. to 5:00 p.m. for individual private prayer. Confessions are by appointment, please call the parish office. Fr. Amal and I will offer private mass each day for anyone who has a mass intention as well as for all our people and their safety during this emergency. We will also be participating in the live-streamed masses from St. Andrew's Let us all pray for God's protection during this troubling time.
The Diocese of Tucson website has detailed information about our response to the virus. Please click here: Diocese of Tucson
Televised Masses
St. Andrew's will be live streaming mass each day at 10:00 a.m. On Sundays, Mass is at 10:00 a.m. in English y a las 12:00 p.m. en español.  Both Fr. Amal and I will be celebrants: St. Andrew's Mass
You can find masses each weekday on EWTN Television Network:
Dish TV channel 261; Direct TV channel 370; Cox Cable channel 113.
Sunday Mass can be found at 6:00 a.m. and 9:30 a.m. each Sunday on KOLD TV Channel 13.
Mt. Angel Abbey also live-streams Masses and the Liturgy of the Hours: Mt. Angel Prayers
Bishop Weisenburger is also has his daily mass on the Diocese of Tucson Web page: Diocese of Tucson
Bishop Robert Barron has mass as well as many resources on his webpage: Word on Fire Daily Mass
La Santa Misa en español desde el Diocesis de Phoenix.
Parish Online Giving
If you haven't ever given online, now is a good time to start.  With Online giving, there is no touching of checks or money which helps keep both you and our money counters safe from virus transmission. Online giving is helpful for both the parish, since it saves our money counter volunteers time and saves us the expense of printing and mailing envelopes, as well as for you, the donor, since it saves the time used for weekly check writing. If you would like to sign up, please click on the "Online Giving" icon on the left side of this page.
Public Service Announcement
Thanks to St. Andrew's we present this Hand Washing Video by Chef Gordon Ramsey.
Annual Catholic Appeal
The 2020 Annual Catholic Appeal is now underway. We are currently at 84% of our goal. If you have given before, you should have received a letter from Bishop Weisenburger asking for your pledge, otherwise there are pledge envelopes in the back of the church.  We are enchttps://www.mountangelabbey.org/monastery/mass-prayer-schedule/ouraged to consider the needs of our Church and of the Diocese as one family in Christ. The Ministries supported by the Annual Catholic Appeal are a great help to our parish as well as other parishes throughout southern Arizona. For example, Deacon Peter Pedrasa will be ordained to the priesthood this June. It is through the Annual Catholic Appeal that he was able to be educated here for the parishes in our diocese. Please prayerfully consider your donation and all the good works that donation will provide.
Pray for Vocations
We need to pray for Vocations to the priesthood and religious life, so Bishop Weisenburger has asked the parishioners of the Diocese to specifically pray the rosary for Vocations. This is a critical issue for the future of our Diocese.  If you would like to pray along with our Bishop, you can go to this link: Let us pray the Rosary with our Bishop for more Vocations.
CTSO Tax Credit

Don't forget to make your donation to CTSO so that you can receive the state tax credit. I make mine the maximum amount I can give. This is a win-win situations since we get our money back as state tax credits and our students get scholarships.  Please remember to check the box for All Saints Catholic School. See the link on the side of the page to make your donation.
Please note that ASCS is operating in a remote learning environment until the end of the school year. Thanks to all the teachers, staff and parents who work so hard for their children's education. We are taking registrations for the 2020-2021 school year, for more information, please call the school office.
Info
We have been updating our parish Facebook page frequently. You can take a look by clicking on the link on the left side of the page.
Holy Land
Please keep the people of the Holy Land in your prayers at this challenging time.
God's blessings to all,
Fr. Mike Bucciarelli
Location

 

1425 E. Yaqui Street
Sierra Vista, AZ  85650
View Map

Celebration of the Mass
Saturday

5:00PM

Anticipated Sunday Mass

Sunday

7:30AM

 

9:30AM

11:30AM

5:00PM

–

 

–

Spanish

(1st Sunday Teen Mass)

M, T, Th, F


8:00AM

 –

Wednesday

5:30PM

 –