*We Are Hiring*
Full Time
SAFE ENVIRONMENT COMPLIANCE OFFICER/ ACCOUNTING CLERK
Our Lady of the Mountains Parish Office is hiring their next team member, could that person, be you?
The Full time safe environment compliance officer/accounting clerk will be responsible for a variety of duties in the parish/school.
For complete details, please visit:
Diocesetucson.org Job Employment Opportunities

Dear Brothers and Sisters in Christ,
How blessed are we to be able to walk this earthly pilgrimage with one another as members of Our Lady of the Mountains Catholic Church! No matter what is happening around us — be it a pandemic, challenges in our culture, or social strife — Our Lady of the Mountains is our safe haven. It is the place where we can come together, gathered around the Eucharistic table, to worship and serve our Lord.
It is also the place where we serve one another. Here, united in God's love, we are a visible sign of the body of Christ and together we can accomplish amazing things. Nourished by prayer and the sacraments, members of our parish community are journeying on the path of discipleship and growing in relationship with Jesus Christ each day. We value formation in the faith and sharing our faith with others through evangelization. We also know the importance of bringing the love of God to our neighbors through acts of charity and service. Through our many ministries, and our social and service-oriented outreach programs, we put into action the truth stated so eloquently by St. John the Apostle: "If God so loved us, we also must love one another" (1 Jn 4:11).
With this in mind, I invite you to respond to Our Lady of the Mountain's new stewardship program: "Be faithful. Be Holy. Be a Disciple of Christ." Please review the contents of this brochure and prayerfully consider how you and your family can play an active role in continuing the work of Jesus Christ through our parish community. Our goal is to increase our Sunday offertory contributions in order to bring Jesus Christ to as many people as possible. This is no easy task in today's climate, but I am confident that our dedicated parishioners are up to the challenge.
On September 18th and 19th, the parish will be holding a special Commitment Weekend, inviting members of our community to connect with one another and to make a financial commitment that will allow Our Lady of the Mountains to continue its important work. We are counting on you! Please participate in our "Be faithful. Be Holy. Be a Disciple of Christ." Program and help us respond to God's great gift of love by loving one another with the heart of His Son.
Thank you for your generosity, prayers, and commitment to Our Lady of the Mountains Catholic Church!
In Christ,
Fr. Mike Martinez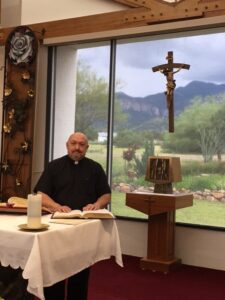 Queridos hermanos y hermanas en Cristo,
¡Cuán bendecidos somos de poder caminar esta peregrinación terrenal entre nosotros como miembros de la Iglesia Católica de Nuestra Senora de las Montanas! No importa lo que esté sucediendo a nuestro alrededor — ya sea una pandemia, desafíos en nuestra cultura o conflictos sociales — la Iglesia Católica de Nuestra Senora de las Montanas es nuestro refugio seguro. Es el lugar donde podemos unirnos, reunidos alrededor de la mesa Eucarística, para adorar y servir a nuestro Señor.
También es el lugar donde servimos el uno al otro. Aquí, unidos en el amor de Dios, somos un signo visible del cuerpo de Cristo y juntos podemos lograr cosas increíbles. Alimentados por la oración y los sacramentos, los miembros de nuestra comunidad parroquial están recorriéndose en el camino del discipulado y creciendo en relación con Jesucristo cada día. Valoramos la formación en la fe y compartiendo nuestra fe con los demás a través de la evangelización. También sabemos la importancia de llevar el amor de Dios a nuestros vecinos a través de actos de caridad y servicio. A través de nuestros muchos ministerios, y nuestros programas de servicios comunitarios y sociales, ponemos en práctica la verdad declarada tan elocuentemente por San Juan el Apóstol: "Si Dios nos amó, también nosotros debemos amarnos mutuamente." (1 Jn 4:11)
Con esto en mente, les invito a responder al nuevo programa de corresponsabilidad de la Iglesia Católica de Nuestra Senora de las Montanas: "Se Fiel. Se Santo. Se Discipulo de Cristo." Por favor revisen el contenido de este folleto y consideren con oración cómo usted y su familia pueden desempeñar un papel activo en la continuación del trabajo de Jesucristo a través de nuestra comunidad parroquial. Nuestro objetivo es aumentar nuestras contribuciones a la ofrenda semanal con el fin de llevar a Jesucristo al mayor número posible de personas. Esto no es ninguna tarea fácil en el clima de hoy, pero estoy seguro de que nuestros feligreses dedicados están listos para el desafío.
El 18 y 19 de Septiembre, la parroquia celebrará un Fin de Semana de Compromiso especial, invitando a los miembros de nuestra comunidad a conectarse entre sí y a hacer un compromiso financiero que permita a la Iglesia Católica de Nuestra Senora de las Montanas continuar su trabajo importante. ¡Contamos con ustedes! Por favor, participen en nuestro Programa "Se Fiel. Se Santo. Se Discipulo de Cristo" y ayúdennos a responder al gran regalo del amor de Dios al amarnos unos a otros con el corazón de Su Hijo.
¡Gracias por su generosidad, oraciones y compromiso a la iglesia de Nuestra Senora de las Montanas!
En Cristo,
Padre Mike Martinez
St. Vincent De Paul NEWS
SVDP has reopened to those struggling to pay bills during the COVID 19 crisis.  We are also furnishing food at Rita's Pantry, open on the third Saturday of each month starting February 20th. The  office is open Monday, Wednesday and Friday from 9:00 a.m. to 11:00 a.m.
Please  say a prayer for all those who are struggling during this time.
Neighbors Helping Neighbors
Sunday Bulletin
We have been emailing our Sunday Bulletin to all parishioners for whom we have an address. If you would like to be added to our list, please call the parish office or send an email to office@olmaz.org
Parish Online Giving
If you haven't ever given online, now is a good time to start.  With Online giving, there is no touching of checks or money which helps keep both you and our money counters safe from virus transmission. Online giving is helpful for both the parish, since it saves our money counter volunteers time and saves us the expense of printing and mailing envelopes, as well as for you, the donor, since it saves the time used for weekly check writing. If you would like to sign up, please click on the "Online Giving" icon on the left side of this page.
Pray for Vocations
We need to pray for Vocations to the priesthood and religious life, so Bishop Weisenburger has asked the parishioners of the Diocese to specifically pray the rosary for Vocations. This is a critical issue for the future of our Diocese.  If you would like to pray along with our Bishop, you can go to this link: Let us pray the Rosary with our Bishop for more Vocations.

Diocese of Tucson News: Do you miss our diocese's former print newspaper "The Outlook?"
Did you know that we now have an online version called: "The New Outlook"? Sign up for it today and it will automatically come into your email every week. It is entirely free, and it informs our readers about local, national, and international Catholic issues and events. To sign up for the The New Outlook"
May God bless you abundantly!
+Bishop Edward J. Weisenburger
Noticias de la Diócesis de Tucson: ¿Extraña nuestro periódico anterior impreso? "The Outlook" ¿Sabía que ahora tenemos una versión en línea llamada "The New Outlook?"
Regístrese hoy y automáticamente le llegará cada semana a su correo electrónico.
Es gratis, e informa a nuestros lectores sobre temas y acontecimientos católicos locales, nacionales e internacionales. Para registrarse en "The New Outlook"
¡Que Dios los bendiga abundantemente!
+Obispo Edward J. Weisenburger
CTSO Tax Credit

Don't forget to make your donation to CTSO so that you can receive the state tax credit. I make mine the maximum amount I can give. This is a win-win situations since we get our money back as state tax credits and our students get scholarships.  Please remember to check the box for All Saints Catholic School. See the link on the side of the page to make your donation.
Call the school office for more information: 520-378-7012.
God's blessings to all,
Fr. Mike Martinez
Location

1425 E. Yaqui Street
Sierra Vista, AZ  85650
View Map

Celebration of the Mass
Saturday

5:00PM

Anticipated Sunday Mass

Sunday

7:30AM

9:30AM

11:30AM

5:00PM

–

–

Spanish

(Covid protocol)

M, T, Th, F

Wed

8:00AM

5:30PM

 –