My friends,
Welcome to the web page for Our Lady of the Mountains Parish. I hope that this site will be useful to all who visit it.

Our parish is blessed by so many wonderful people who participate in many ministries to our community. I hope you take time to browse through all the information presented here to find what you need or be inspired to participate in our life of faith.
Visitors are always welcome to our parish, so if you are traveling through the area, we hope to see you soon in person.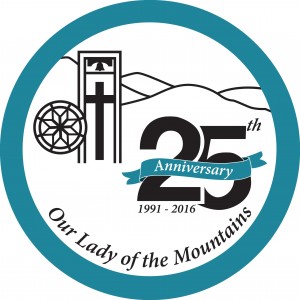 On July 23, we celebrated the 25th anniversary of the founding of our parish. (The actual anniversary was on July 16.) We celebrated mass with Bishop Kicanas with eight more priests concelebrating. Many deacons both past and present were also in attendance.  Following the mass, we enjoyed a banquet which filled our parish hall to the max.  It was a great time to share memories and renew friendships. Special thanks to all who worked so hard preparing for the mass and the dinner. Here are some photos: Parish 25th
We have various commemorative shirts available for sale  in the parish gift shop. Twenty-fifth anniversary parish directories are still available in the parish office.
I have just returned from a pilgrimage to Italy and the Vatican to celebrate the Jubilee Year of Mercy.  Thanks for your prayers. We hope to have some photos soon.
You might want to read about Holy Doors: Holy Doors History
God bless,
Fr. Mike Bucciarelli
Location
1425 E. Yaqui Street
Sierra Vista, AZ  85650
View Map
Celebration of the Mass
Saturday

5:00PM

Anticipated Sunday Mass

Sunday

7:30AM




9:30AM




11:30AM




5:00PM

–




–




Spanish




(1st Sunday Teen Mass)

M, T, Th, F


8:00AM

 –

Wednesday

5:30PM

 –