My friends,
Welcome to the web page for Our Lady of the Mountains Parish. I hope that this site will be useful to all who visit it.

Our parish is blessed by so many wonderful people who participate in many ministries to our community. I hope you take time to browse through all the information presented here to find what you need or be inspired to participate in our life of faith.
Visitors are always welcome to our parish, so if you are travelling through the area, we hope to see you soon in person.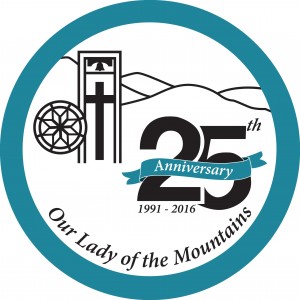 We also have some news. On July 23, 2016 we will be celebrating the 25th Jubilee of our parish's founding. Many activities are planned, so watch here for more news.  We now have various commemorative shirts available for sale after masses in the gift shop. The anniversary parish directories will be available after June 18.
Also, September of 12-23, 2016, I will be leading a pilgrimage to Italy and the Vatican to celebrate the Jubilee of Mercy.
You might want to read about Holy Doors: Holy Doors History
God bless,
Fr. Mike Bucciarelli
Location
1425 E. Yaqui Street
Sierra Vista, AZ  85650
View Map
Celebration of the Mass
Saturday

5:00PM

Anticipated Sunday Mass

Sunday

7:30AM




9:30AM




11:30AM




5:00PM

–




–




Spanish




(1st Sunday Teen Mass)

M, T, Th, F


8:00AM

 –

Wednesday

5:30PM

 –